Jennifer Lopez and Ben Affleck confirm they have married 20 years after first engagement
#Jennifer #Lopez #Ben #Affleck #confirm #married #years #engagement
Jennifer Lopez and Ben Affleck are married!
Two decades after they first got engaged'Bennifer' have eloped in Las Vegas after obtaining a marriage license. Lopez confirmed the news in her personal newsletter On The JLo, sharing a series of photos from the day alongside a heartfelt message.
"We did it. Love is beautiful. Love is kind. And it turns out love is patient. Twenty years patient," Lopez wrote in the newsletter this morning, saying it was the "best possible wedding we could have imagined" that they had "dreamed of long ago" and now it was finally real "at long last."
READ MORE: Lleyton and Bec Hewitt's kids look all grown up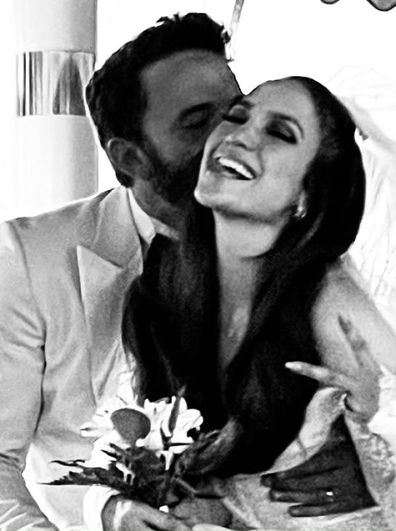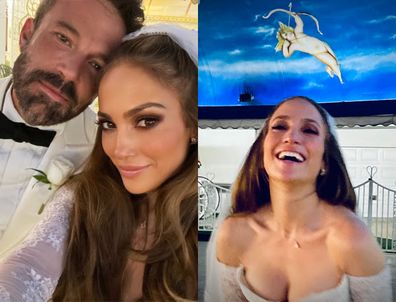 Lopez said it was "exactly what we wanted" and that the couple flew to Las Vegas last night, stood in line and waited with four other couples for a wedding license, and near midnight, married in a "little white wedding chapel."
"They graciously stayed open late a few minutes, let us take pictures in a pink Cadillac convertible, evidently once used by the king himself (but if we wanted Elvis himself to show, that cost extra and he was in bed)," she wrote of the "best night of our lives."
Lopez said they had the "best witnesses you could ever imagine" and that she wore a dress from an old movie while Affleck wore a jacket from his closet, and the duo reportedly changed into their wedding outfits in the break room and men's room of the Little White Wedding chapel.
READ MORE: Suspect arrested after 'active shooter' disrupts The Office star Craig Robinson's comedy club show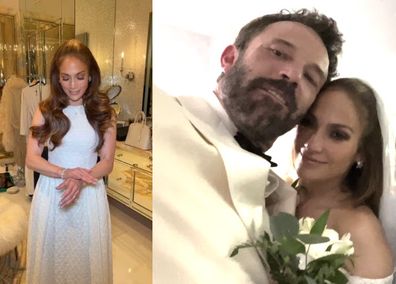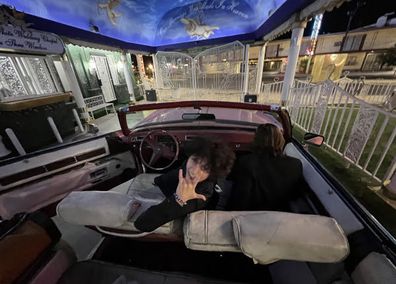 "We read our own vows in the little chapel and gave one another the rings we'll wear for the rest of our lives," Lopez said.
"They were right when they said, 'All you need is love,'" she continued. "We are so grateful to have that in abundance, a new wonderful family of five amazing children and a life that we have never had more reason to look forward to."
"Love is a great thing, maybe the best of things-and worth waiting for," she concluded.
The songstress signed her message, which also include footage from the wedding preparations, off as "Mrs. Jennifer Lynn Affleck." Watch the videos from the day above.
READ MORE: Cyndi Lauper's son arrested after police allege they found him in a stolen car
TMZ first reported the news that Lopez, 52, and Affleck, 49, got a marriage license processed on Saturday, July 16 in Clark County, Nevada, in their legal names – Benjamin Geza Affleck and Jennifer Lynn Lopez.
A source, who the publication says is close to the couple, reportedly told them Bennifer "did, indeed, get hitched… and the license is a signal they are now man and wife."
Entertainment Tonight also reported the couple got married, with a source close to the couple telling the publication: "Jen and Ben got married in Vegas. They have so much fun together and thought this would be a fun idea too. Ben is absolutely in love with Jen and feels loved by her too. They both feel so comfortable with each other and like they share history and know each other so well."
Peoplehowever, was hesitant to confirm the nuptials, but multiple sources confirmed Lopez and Affleck's status as wife and husband. A source told the publication the duo wed in a "super small" ceremony, with Lopez's children and mother in attendance.
"They just wanted to be married so they got married," the insider reportedly told the publication.
READ MORE: Armie Hammer working in Cayman Islands after being 'cut off' from wealthy family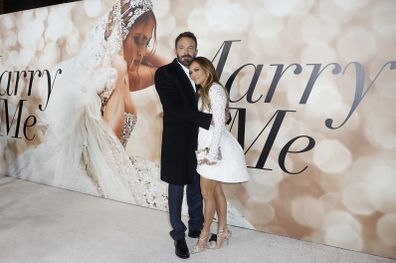 The Marry Me star and Argo actor rekindled their romance last yearalmost 20 years since they first got engaged and, a year later, calling off their wedding, and then, two years after their engagement was announced, ultimately calling time on their romance.
Three months ago, Lopez announced her engagement to Affleck in her personal newsletter On The JLo, days after she was spotted wearing a green sparkler on her ring finger.
In between his time with Lopez, Affleck was married to actress Jennifer Garner with whom he shares three children – Violet, 16, Seraphina, 13, and Samuel, 10.
Lopez, meanwhile, has been married to Ojani Noa, Cris Judd and singer Marc Anthonywhom she has 14-year-old twins with — Max and Emme.
READ MORE: Popstar Rick Astley reveals why he retired at age 27
Bennifer rekindled their romance shortly after Lopez's high profile split from ex-fiancé Alex Rodriguez.
Of their second chance at love, Affleck previously told The Wall Street Journal: "I am very lucky in my life in that I have benefited from second chances, and I am aware that other people don't even get first chances."
"I've had second chances in my career. I've had second chances as a human being. Life is difficult, and we are always failing and hopefully learning from those failures."
Lopez, meanwhile, echoed those sentiments in an interview with People.
"I feel so lucky and happy and proud to be with him," she said. "It's a beautiful love story that we got a second chance."
For a daily dose of 9Honey, subscribe to our newsletter here.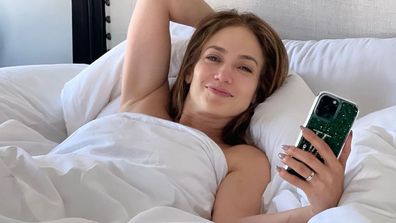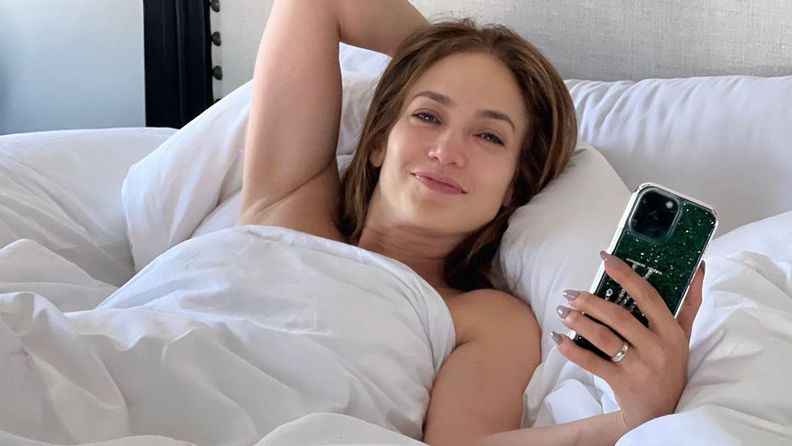 J.Lo flashes her new wedding band in morning-after pic
Stay Connected with Spot72.com – Follow for more updates, you will be notified soon. Thank You
Watch Latest Full Videos Here
Join Our Telegram Channel For Latest Videos
https://t.me/trends72com