Hardik Pandya credits Ashish Nehra for adding 'more value' to captaincy abilities
– #Hardik #Pandya #credits #Ashish #Nehra #adding #captaincy #abilitiesWatch full video click here.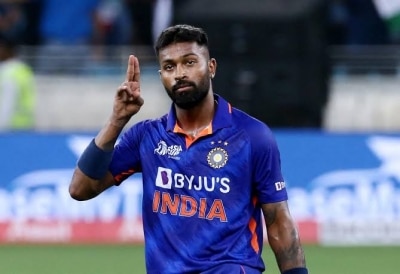 Rajkot, Jan 8 Team India captain Hardik Pandya credited Ashish Nehra, his head coach at his IPL franchise Gujarat Titans, for adding "more value" to his abilities as a skipper.
Hardik was appointed as captain of Gujarat, one of the two new teams in IPL 2022, with just the experience of leading India A in a tour match against a visiting Australia side at the Brabourne Stadium in February 2017.
But he got instant success, taking Gujarat to winning IPL 2022 trophy in their maiden season and then got elevated to captaining India in eight T20Is whenever Rohit Sharma was unavailable. Under Hardik, India have won six T20Is, with one loss and one tied result.
"I had never led in junior cricket either. When I was in Under-16s, I had led Baroda. After that, everyone felt I should focus on my cricket, and since then I had not led. But what has been very important from Gujarat's point of view is the kind of coach I worked with. Ashish Nehra made a big difference in my life."
"We might be two different personalities, but when it comes to cricket, our mindset and thoughts are very similar. Because I was with him, it added more value to my captaincy and to get exactly what I know. I always had the awareness of the game but it was about getting that assurance. It was about kind of backing what I always knew already, so it has definitely helped me," said Hardik in the post-match press conference.
At Rajkot, India's 91-run series-clinching victory over Sri Lanka was set up by 112 not out from Suryakumar Yadav, followed by a counter-attacking 36 from Rahul Tripathi, Shubman Gill making 46 and Axar Patel providing finishing touch with 21 not out for the hosts' to make a mammoth 228/5. Hardik explained India's batting mantra in T20Is is all about showing intent and aggression irrespective of the situation.
"It's about intent, that's something we have spoken about. It's not about us playing aggressive in terms of hitting. There might be a day when we do the same thing and score only 150. But what's important is the intent. You look for a boundary, and then if it's a good ball, you respect that ball. But if you aim for one first, then you are thinking defensively. Then even if a bad ball is there, you won't be able to put that away."
"A wicket like this doesn't change much because it was suiting batsmen once the ball kind of got old. But of more importance, it's intent and aggression are more important on a tricky wicket. Because if you can do the same thing on a tricky wicket, the bowler might feel he has to try something else, whereas if you play normally, he might just come and bowl normally. If we do that, it makes a difference of ten runs, and at the end of the day, those ten runs make a big difference if you see overall in the game."
–IANS
no/cs
PLAY FREE ONLINE GAMES
Recommended: Courses in Sports Management
Watch full video click here.
Stay Connected with Spot72.com – Follow for more updates, you will be notified soon. Thank You For Visiting
Watch Latest Full Videos Here
Join Our Telegram Channel For Latest Videos
https://t.me/trends72com